Pastoral Region Parish Staff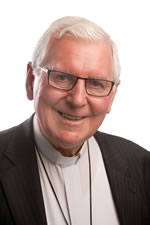 Parish Priest & Diocesan Bishop
Born at Crows Nest in January 1941, Bishop Peter Ingham is the son of George and Marjorie Ingham (nee Hyndes). His early education was completed at St Leonard's Primary School, Naremburn, and St Pius X College, Chatswood. He studied for the priesthood at St Columba's Seminary, Springwood, and at St Patrick's Seminary, Manly, and was ordained a priest by Cardinal Gilroy in St Mary's Cathedral in 1964.
Psalms and readings from the Liturgy of the Hours, and Mass readings.
News from the Diocese
Sometimes the facts do more than speak for themselves. They cut through the confected edifice of an institution more obsessed with its image than its ethos.

Such is the case with the Catholic Church and

...

Over the course of the next two weeks many Australians will be celebrating two solemn memorials: Good Friday and ANZAC Day. Don't disconnect them, both are inextricably linked. In the Gospels, Jesus calls

...