A Message from the Administrator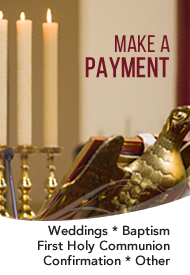 During the Easter Vigil ceremony, the priest enters a darkened church with the newly lit Paschal Candle. He acclaims three times, "Christ our Light" and the Congregation welcomes the Light singing, "Thanks be to God".
In our churches in the Pastoral Region, the priest sings this antiphon in Latin, "Lumen Christi". This is the title given to our Pastoral Region comprising the three parishes of Wollongong, FairyMeadow/Balgownie and Gwynneville.

Psalms and readings from the Liturgy of the Hours, and Mass readings.
News from the Diocese
Sometimes the facts do more than speak for themselves. They cut through the confected edifice of an institution more obsessed with its image than its ethos.

Such is the case with the Catholic Church and

...

Over the course of the next two weeks many Australians will be celebrating two solemn memorials: Good Friday and ANZAC Day. Don't disconnect them, both are inextricably linked. In the Gospels, Jesus calls

...